It really is a party all over the U.S.A.
After nearly a week of parties, PDA and did we mention parties in Miami, Miley Cyrus and Patrick Schwarzenegger have left town and moved west to Nashville for some quality time together.
In a new Instagram post, the 21-year-old University of Southern California college student revealed his newest location while hanging out with his girl and a few close friends.
"Good old Nashville," he wrote as Cyrus gave a thumbs up while sitting on his lap. When looking closely, you may also recognize the one and only Cody Simpson nearby.
That's right, Gigi Hadid's on-again, off-again boyfriend joined the campfire fun Saturday evening.
"Spending a few days at a ranch in Nashville with some real good people," he wrote on Instagram before grabbing his guitar and singing with Cyrus. "A little Johnny cash by the fire never hurt nobody."
All this traveling around the country, however, got us thinking about Schwarzenegger's life as a college student. According to USC's academic calendar, the last week of classes for the fall semester was Dec. 1, the same time he was in Miami.
And with finals beginning Dec. 10, we have to wonder how the studious student is making time to study.
Putting school aside, both Schwarzenegger and Cyrus have made it clear that they really enjoy spending time together.
Whether at college football games, dinners by the beach or even at penis-themed birthday parties, the pair is staying close throughout the holiday season.
"They might seem like an odd pairing, but they are quite good for each other," a source told E! News. "They've been friends forever."
And if you needed more proof that these two were the real deal, ask their closest friends.
"This is more than just a fling," an insider asserted. "They look like they are falling in love with one another." Think it's safe to say they are now totally in love!
[
Source
]
The first batch of nominees for the 57th Annual Grammy Awards were announced Friday.
Ed Sheeran and Pharrell Williams revealed which musicians are in the running on CBS This Morning. "We don't want to, like, geek out in front of everybody," Williams, who learned he is a nominee, joked. "This is national TV." The Grammys will be held on Feb. 8, 2015 at the Staples Center in L.A. and will air live on CBS at 8 p.m. ET.
BEST POP VOCAL ALBUM
Coldplay, Ghost Stories
Miley Cyrus, Bangerz
Ariana Grande, My Everything
Katy Perry, Prism
Ed Sheeran, X
Sam Smith, In the Lonely Hour
More Grammy nominations will be announced throughout the day via Twitter. It will culminate with the Album of the Year contenders revealed on A Very Grammy Christmas, airing on CBS Friday at 9 p.m. ET.
In all, there will be 83 categories. The full list will be revealed by 2 p.m. ET.
[
Source
]
In a bizarre and emotionally transparent performance, Miley Cyrus mocked her own music, opened up about her dark year and belted out some Led Zeppelin. Oh yeah, and she smoked pot onstage.
Wearing a silver metallic Cleopatra wig and bright turquoise eye shadow, Cyrus kicked off a private, poolside show at the Raleigh Hotel in South Beach singing a duet of "Super Freak" with a topless woman. Cyrus was among the top-billed acts during the star-studded week of the prestigious Art Basel Miami Beach.
The 22-year-old singer performed mostly covers, including Led Zeppelin, the Beatles' "Lucy in the Sky With Diamonds" and Johnny Cash, telling the audience she understood they were serious about real art and probably weren't fans of her pop-music style.
"You thought (Art Basel) was a respected place where you could escape me," said Cyrus, who talked about her difficult year after her twerking performance at the 2013 MTV Video Music Awards and the death of her dog.
The former Disney star said it took her to a dark place and made her realize many things she was doing seemed meaningless.
"This year has constantly challenged me, and that's why I started doing art," she said before launching into a song she wrote after her friend's cat spoke to her in a dream. She also played the macabre song on the piano, abruptly banging on the keys at the end, saying she was sick of talking about death and wanted to move on to something fun.
Later in the show, she donned a massive rainbow with a cutout for her head, while two other performers wore mushroom costumes. At one point, two costumed sharks and a penis ran across the stage. Despite distractions of bubbles floating through the air and falling confetti, one thing stood out ? her vocal chops.
"Usually I don't smoke weed and drink, well that's a lie … usually I don't smoke weed and drink on show days, but I felt like it was fine in Miami," said Cyrus, whose boyfriend, Patrick Schwarzenegger, also attended the party, hosted by designer Tommy Hilfiger, art dealer Jeffrey Deitch and V Magazine. Schwarzenegger is the eldest son of actor and former California Gov. Arnold Schwarzenegger and his estranged wife, journalist Maria Shriver. She is a member of the Kennedy family.
Offstage, art abounded as a trio of nude women covered in body paint, wearing only giant wigs and black thigh-high boots, posed for pictures. Neon necklace-clad plastic baby dolls were tucked into the branches of trees surrounding the pool.
Inside several poolside cabanas, art installations showed video images of Cyrus with a neon green Oz-like background alongside strangely photo-shopped images of her and messages accusing her of torturing her real fans and urging her to "stop posting terrible art."
[
Source
]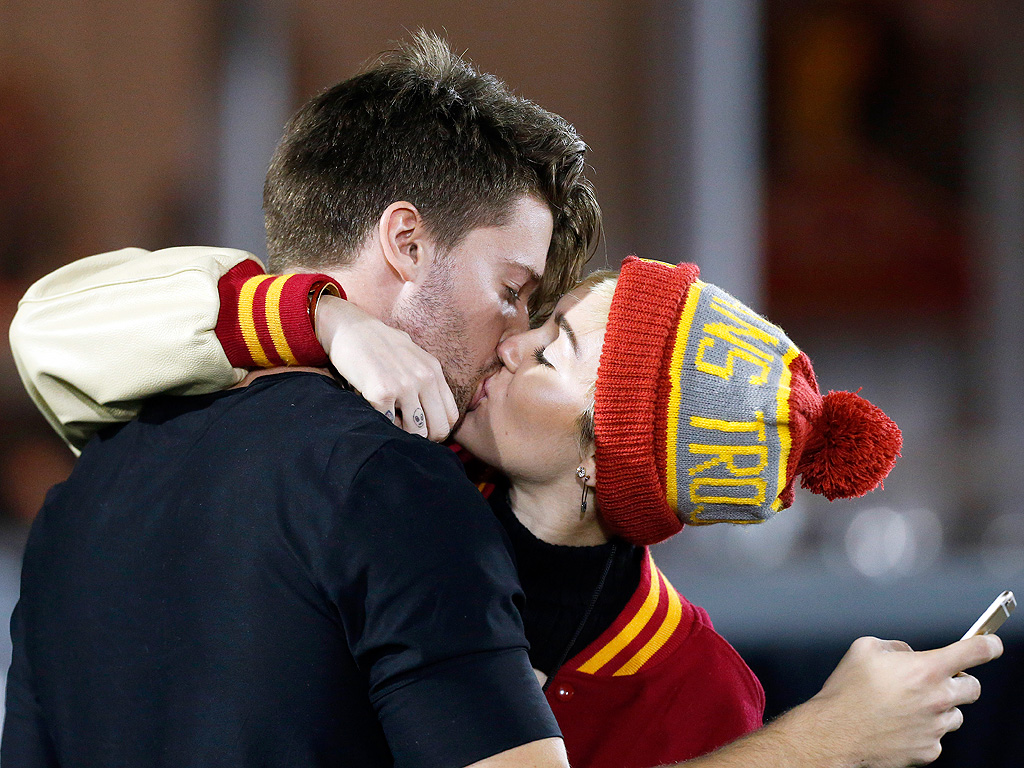 Maria Shriver displeased with her son's social life? Not so fast.
While recent Internet reports claim Maria Shriver is up in arms that her 21-year-old son Patrick Schwarzenegger is dating pop star Miley Cyrus, there's no such family drama brewing, PEOPLE has learned.
"It's untrue that Maria is unhappy," says a source.
While Shriver, 59, is a hands-on parent to Schwarzenegger and her three other children with Arnold Schwarzenegger, 67 – Katherine, 24, Christina, 23, and Christopher, 17 – she trusts their choices.
Bottom line, says the source, "If Patrick's happy, she's happy."
Cyrus, who has spent time with Shriver and gotten to know the rest of the family, is no shrinking violet, of course.
At her 22nd birthday bash on Nov. 23 at Metropolitan Nightclub in West Hollywood, for instance, the Wrecking Ball singer donned a neon pink and lime green cut-out dress and vamped with blow-up dolls.
But holding his own and by her side all night? Schwarzenegger, dressed in a pilot's jumpsuit for the Happyland-themed party. "They were cute and affectionate together," an onlooker tells PEOPLE.
"Patrick seems extremely happy," says a source.
The feeling, echoes a Cyrus pal, is mutual: "They're having a great time."
And that's just fine by Patrick's mom.
[
Source
]
While major artists including Julian Schnabel and Marina Abramovic will be in Miami this upcoming week for Art Basel, starting Dec. 4, there will also be no shortage of pop culture icons on hand — including Miley Cyrus and Kim Kardashian, who is celebrating that infamous, oiled-up Paper magazine cover.
A total of 267 galleries from 31 countries are set to descend on the main fair at the Miami Beach Convention Center until Dec. 7.
The world's top collectors, curators and gallerists will mingle at dinners, including one thrown by Larry Gagosian for renowned American architect Peter Marino, whose exhibition "One Way: Peter Marino" opens at the Bass Museum of Art on Dec. 4.
Other exclusive dinners include a fete for the high-end Faena development thrown by Len Blavatnik and Alan Faena with Baz Luhrmann, a dinner for the top artists, collectors and gallerists hosted by Aby Rosen and Samantha Boardman, a Roger Dubuis and Peter Brant-hosted event, plus another hosted by IWC and Peter Lindbergh.
Ian Schrager will unveil his much-anticipated Miami Beach Edition hotel, while Tommy Hilfiger will welcome guests to his Raleigh Hotel with a performance by Cyrus on Thursday, the same night Kim K will celebrate her Paper cover with a sitdown VIP dinner.
And Theophilus London will DJ at the Artsy party in the Design District on Dec 3. This year's show, and the satellite fairs including Design Miami, Select and Nada, are surrounded by so many events its impossible to list them at once — so watch this space for more updates.
[
Source
]
It may be Thanksgiving break for many college students.
But when it comes to Patrick Schwarzenegger and Miley Cyrus' relationship, let's just say the lovefest is unstoppable.
Although the two spent Turkey Day with their respective families, Hollywood's newest couple reunited Saturday in Malibu, Calif., where sparks were clearly visible.
The couple started their afternoon with a walk on the Malibu Pier before walking into Nobu restaurant hand-in-hand.
Cyrus was all smiles as she wore a long black skirt, white T-shirt and a comfy pair of Converse shoes. In comparison, Schwarzenegger opted for a black T-shirt, dark green trousers and black shoes.
Their public outing comes nearly two weeks after the twosome was spotted making out at the University of Southern California football game in Los Angeles.
Although the pair decided to skip Saturday's match vs. Notre Dame, the university took full advantage of the couple's visit by setting up a special merchandise display in the bookstore that featured the same jacket and beanie cap designs worn by Cyrus.
As it turns out, the idea was pretty genius because the beanies disappeared within days.
"The bookstore said they were completely sold out after Saturday's game," a source told E! News after trying to purchase the warm accessory. "They said they also had tons of calls but more won't be coming until after Christmas!"
While fans continue to show their support for the couple, one thing remains clear: These two are falling in love.
"I have seen Miley with Liam and other boyfriends but honestly I have never seen her look as loved up as this," an insider recently told E! News. "This is more than just a fling."
And don't think for one second that this is a one-sided relationship. Schwarzenegger also can't get enough of his leading lady.
"Patrick loves what an amazing heart she has and that she really pushed him out of his comfort zone," a source revealed. "They might seem like an odd pairing, but they are quite good for each other. They've been friends forever."
[
Source
]
If Rihanna and Drake are the Ross and Rachel of our generation, then our generation's Ross and Rachel of friendship are Demi Lovato and Miley Cyrus. Are they friends still? We so badly want them to be friends.
Unfortunately, according to Lovato, things aren't all that friendly between the two.
During a radio interview with 103.3 AMP Radio's "The TJ Show," a fan called in and asked Lovato about the status of her friendship with Cyrus. "Um… yeah… that, um…we're, we're like, we're acquaintances," Lovato said.
The DJ asked if there was a specific drama that caused the rift. The fan clarified that, no, she wasn't wondering about anything specific, only that she had noticed Lovato and Cyrus hadn't seemed as close as they once were following Cyrus' "wild phase." Then Lovato chimed in: "It's life, and people change, and, you know, I don't have anything in common with her anymore. I wish her all the best."
Lovato and Cyrus are long rumored to have suffered some kind of rupture in their friendship. Earlier this year, the two unfollowed each other on Twitter, which, in 2014, is the equivalent of drunkenly yelling "I never want to talk to you again, you backstabber!" while stumbling out of a bar at 3:30 a.m.
You can listen to the entire interview here. The Cyrus question comes up at the 4:25 mark.
[
Source
]
Wild child Miley Cyrus celebrated her 22nd birthday in true Miley style.
The pop star celebrated with new boyfriend Patrick Schwarzenegger, 21, and several friends at a West Hollywood nightclub, where she was presented with an enormous pizza cake and rode a mechanical ride in the form of a penis.
Miley, who had used giant inflatable phalluses on stage during her Bangerz tour concerts, arrived at her party in a colorful outfit, consisting of a bright pink top that connected with a ring to her fluorescent green mini skirt, covered with a pink and yellow fur jacket. She sported blue eye shadow, blue and yellow hearts painted on her face and pink and blue butterfly clips in her short hair.
She was photographed near the Factory Club with Patrick (dressed in an olive green flight suit), her brother Braison Cyrus, 20 (dressed in plaid), and friends. Singer and actress Sky Ferreria also attended the party, E! News has learned.
Cyrus posted a photo on Instagram of her pizza cake.
"It's my buuuurffffdayyyy," she said.
Her friend Katy Weaver, who also attended the party, shared another pic.
"Everyone had a great time," a source told E! News. "It was a fun and relaxed and it was quite a spectacle. Nothing less than what you would expect from a party with Miley."
Patrick is the eldest son of Arnold Schwarzenegger and Maria Shriver, who share four children. E! News learned about his and Miley's relationship in early November. Several sources said they were "casually dating."
Since then, Patrick and Miley have been spotted out together several times this month, including at a USC football game, where they packed on the PDA, and during several dates.
This is the most high-profile relationship for Miley since she and actor Liam Hemsworth, her co-star in the 2010 movie The Last Song, ended their engagement and broke up in September 2013.
"I have seen Miley with Liam and other boyfriends but honestly I have never seen her look as loved up as this," an insider told E! News last week. "This is more than just a fling, they look like they are falling in love with one another."
[
Source
]
The 21-year-old is hoping the party will not only help others but showher critics that she has a "caring and sensitive" side to her personality.
The soiree will include a three course dinner with waiters on hand to make sure Miley's guests don't lift a finger.
"Most people only see the Miley who puts on a show," an insider told the Star.
"But she's really caring and sensitive and wants to make a difference to the lives of homeless people. She's putting a lot of effort into this party, there'll be waitresses to serve them.
"The whole thing will cost her around £6,000 but she feels that it's the least she can do."
Miley has worked closely with a homeless shelter in LA for the past couple of years and the cause means a lot to her. In August she invited Jesse Helt, a man she met at the shelter, as her date to the MTV music awards.
Jesse reduced the Wrecking Ball singer to tears when he went up on stage and collected her award.
"There will be fun and games after the food too, and Miley is bound to put on a little show for them to get the party started," the source added.
[
Source
]
Miley Cyrus has recorded a cover of Melanie Safka's "Look What They've Done to My Song, Ma" for the Sundance Selects satire "Free the Nipple," Variety has learned.
Lina Esco, 29, is making her directorial debut on the feature about female activists who challenge censorship laws by going topless in public. Esco, who is also an actress, met Cyrus on 2012's "LOL," and showed her an early cut of "Free the Nipple" over the summer. That's when Cyrus agreed to put her own spin on the tune for the film's closing credits.
Cyrus recorded the song last August in two takes. She's performed "Look What They've Done to My Song, Ma" before, but this version—produced by Nick Littlemore and Peter Mayes—sounds different. "It's more rock 'n' roll," Esco says. "It's very Johnny Cash. Her voice is so raw, and the song is so raw."
Esco started a feminist movement when she coined the phrase "Free the Nipple" in 2013, which has since been championed by Lena Dunham, Liv Tyler and Rihanna. The campaign, which has attracted 122,000 Twitter followers, opposes laws in 37 states that make it illegal for women to show their breasts in public.
"This is about equality," Esco says. "You can show beheadings on Facebook, but you can't show breastfeeding. If you're going to censor nudity and love, you should censor violence."
She came up with the idea for the movie, and when she started sharing the phrase, it went viral online (this tweetfrom Cyrus helped).
The film, which cost just under $1 million, was shot in six weeks in New York, but Esco ran into problems when police wouldn't allow her actresses to appear topless in the streets.
"I'm making a movie called 'Free the Nipple,' and I can't show boobs," Esco says. "I had to go and steal the shots. We went and mapped out all the locations, rehearsed with clothes on and did it all in one take."
"Free the Nipple" opens in theaters and on VOD on Dec. 12.
[
Source
]